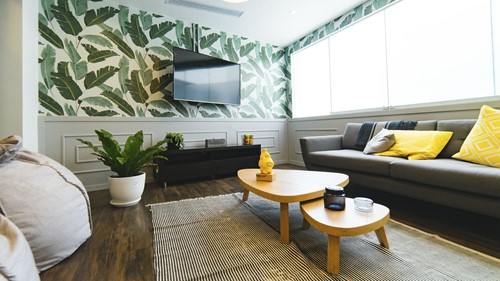 Setting up a home theater might seem like a relatively easy project. Unlike other home improvement projects, you don't have to worry about changing your plumbing or electrical systems. You also rarely have to deal with changing the layout of your home or making any other major changes in order to set up this type of room. While a home theater might be fairly simple to set up, there are certain mistakes you should avoid making. Keep the following in mind when you plan your home theater.
Choosing a Room with Too Much Light
When you're deciding on a room for your home theater, avoid choosing one that has a lot of windows or a skylight. Too much natural light can make it harder to ensure a good viewing experience due to glare. If you choose a room with windows, you'll need to make sure they're covered to block as much natural light as possible. Ideally, your home theater should be in a room with no windows or only one or two windows.
Placing Speakers in Bad Locations
If you're planning to use a surround sound system in your home theater, avoid putting the speakers in the wrong locations. For example, you shouldn't have all of your speakers in the front of the room. You should also avoid positioning speakers behind the seats. Depending on the type of speaker system you're using, space them far enough apart to provide high-quality surround sound no matter which seat you're in.
Putting Seating at the Wrong Distance
When setting up your home theater, the distance between the screen and your seats is highly important. Putting seats too close to the screen means you might have to strain your neck to watch movies, especially on a larger screen. You might also end up with headaches from sitting too close. Putting seats too far away from the screen, especially if it's a smaller screen, means you won't have as much of a cinematic experience. Make sure you put the right distance between your screen and seating depending on how large the screen is.
Placing Too Much Furniture in the Room
While you're going to have seats in your home theater, limit the amount of room furniture overall. Having too much furniture in your home theater can make the room feel too crowded, which can lead to a less pleasant experience watching movies. Keep in mind that furniture can also affect your sound quality. Sound can bounce off of furniture, resulting in poor audio quality. Limit furniture to just the right amount of chairs for you and your family.
Making Device Controls Overly Complicated
If your home theater has multiple devices or pieces of equipment, controlling each of these can become confusing. When you need to use separate remotes to adjust or use various devices, this can make your home theater setup too complex, which can end up being frustrating. Consider using a universal remote to control all or most of the devices and other equipment in your home theater. This helps make your home theater much easier to use.