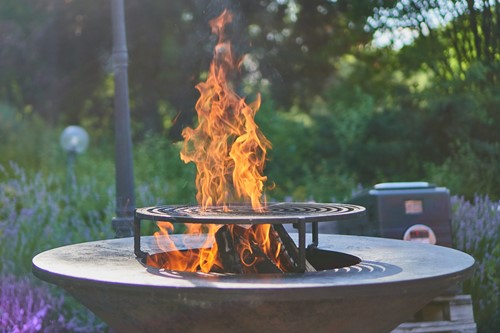 It's possible to upgrade your backyard on your own and on a budget. If you're looking for a way to transform or enhance your outdoor living space, DIY projects are the way to go. Here are some ideas for DIY backyard projects you can do to upgrade the space.
Fire Pits
Fire pits are far simpler to DIY than you might think. With some basic tools, angled paving stones and some gravel you can make a simple fire pit for bonfires all year round. Round fire pits are the simplest to construct but you can also build a rectangular option for a contemporary twist. However, make sure your homeowners' association or local codes allow them before you build.
Vertical Gardens
Vertical gardens are all the rage and for good reason. They're simple to construct out of inexpensive materials and a great way to enjoy your garden while saving outdoor space. One excellent way to make a DIY vertical garden is by using wooden pallets and hanging window boxes or small planters from the slats. You can fasten the palette to a wall, fence or create a base for a free-standing double sided garden.
Stepping Stones
Stepping stones are an alternative to garden paths and are relatively easy to set up. You can purchase stone pavers or actual stone depending on your preference and set them with common tools. Take your creativity even further by making stepping stones yourself with pebbles or mosaic pieces. These stones not only look great but add important functionality and structure to any yard, no matter the size.
Colorful Cushions
If you want to liven up your outdoor seating, try DIY cushions. With some fabric and cut foam pieces you can make your own cushions for chairs, benches or even the ground. Choose sturdy outdoor fabrics that can withstand the elements but add color, pattern and aesthetic appeal to your backyard patio. By creating your own cushions, you can customize their size and shape so they fit your furniture and needs perfectly. Try pairing the cushions with a coordinating outdoor rug for a powerful makeover in minutes.
Curtains and Shades
If your backyard is especially sunny, creating shade is a great way to help you enjoy it even on the hottest of days. Try setting up a DIY sail shade made of raw canvas. You can attach it to existing structures like the outside wall of the house or garden fence or construct your own support posts. Curtains are another excellent way to create shade and add privacy to your backyard, especially when hung from a pergola. Try light-colored fabrics to keep the area cool while still letting in the sunshine.
These are just a few ideas for simple DIY projects to transform your backyard. Try using these ideas as starting points and with a little work and creativity you'll have a backyard that feels brand new.